Azhar Usman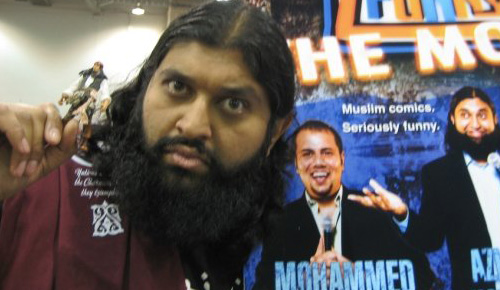 Born in Chicago to an Indian Family Azhar Usman took everything seriously despite his incredible funny bone! A BA in Communications and degree in Spanish from University of Illinois, Juris Doctrate in Law from University of Minnesota law School, he practiced law and stand up comedy in 2001. In 2004 launched a comedy tour, Allah Made me Funny, that later turned into theatrical production and ended up as a movie.
Listed as one of the world's 500 most influential Muslims, Azhar is an artist and an activist for The Nawawi Foundation, and Inner-City Muslim Action Network (IMAN) in Chicago.
A wildly funny and equipped with a unique sense of humour, Azhar finds himself in a sensitive spot where traumatized communities in post 9/11 world cant find much humour in the Muslim Diaspora. Azhar is able to not only find it but also pushes it to the boundaries with maturity. This delicate balance is what makes Azhar the most sought after Muslim comic of Indian American origin in the world.. Mosaic festival is very pleased to bring him back(and it was not easy) after 6 years to Mosaic stage for a memorable evening for all!.