Nitin Mirani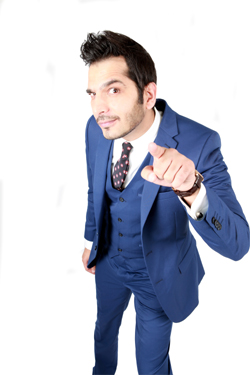 Called Kind of UAE comedy and 'One of the funniest people of 2012 and a brand builder' by Rolling Stone M.E, Nitin is a Dubai based comic and with acts like Komic Sutra and his famous Laugh and let Laugh tag line, he remains a darling of comedy circles around the world.
To date Mirani has performed in comedy's finest venue's such as Carolines on Broadway, New York, the Comedy Store, London and India and at Yuk Yuks, and shared the stage with some of comedy's biggest names including Eddie Griffin, Maz Jobrani, Max Amini, Ava Vidal, Vidur Kapur, Nemr Abou Nassar, Aron Kader and Dean Obeidallah to name a few.
Anokhi Magazine's "Sexy and Successful" list in 2012, Nitin appeared cameo with bollywood star Sonu Sood in the award-winning film "City of Life" directed by Ali Mostafa and shooting his second film 'Soul of Dubai' (also directed by Ali Mostafa), set for release during the 2013 Dubai Film Festival.
Web site : http://www.nitinmirani.com
Special thanks to Sumit for hounding Nitin to perform for Mosaic Festival.