Karsh Kale featuring Max ZT, Jonita Gandhi, Dale Harrison and Bageshree Vaze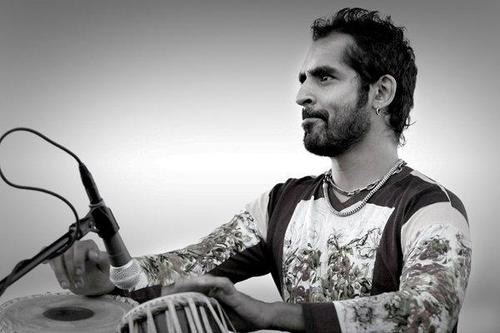 Karsh Kale is widely regarded as a pioneer of global fusion and electronica as it inspires and defines the worldwide club phenomenon known as "Asian Massive" or "Asian Underground" of '90s. Today Karsh's music has travelled far past the underground club scene featuring on stages from Lincoln Center to the Burning Man Festival, and from the Barbican Center to the Hollywood Bowl. Karsh's diverse musical talent - whether as a world-class tabla player/drummer, producer, composer, songwriter, remixer or DJ - has led him to working with some of the world's leading artists such as Pandit Ravi Shankar, Sting, Zakir Hussain, Herbie Hancock, Lenny Kravitz, Anoushka Shankar, Yoko Ono, Bill Laswell, DJ Spooky, Shujaat Khan, Vijay Iyer, Chaka Khan, Paul Oakenfold and many others. Lately Karsh has established himself as a cutting edge film composer in India's fast paced "Bollywood" film industry while continuing to score independent and crossover films in the West. Kale and his production partners (MPKK) have also recently composed original music for a musical directed by Academy Award nominated director ShekharKapur("Elizabeth: The Golden Age"). In the past ten years, Karsh released 4 critically acclaimed solo albums and has toured the world with various ensembles including Cinema Live, Timeline, Realize Live, Tabla Beat Science (with ZakirHussain), Breathing Under Water (with Anoushka Shankar) and live with the MidivalPunditz. Describing the effect of having so many platforms at his disposal, Karsh states, "Having many outlets for my sound has opened up the possibilities of what that sound can actually be for me. I often find myself moving quickly between a live set with my band to composing strings for a film to DJing a dirty dance set to writing an acoustic song within a short period of time. My sound comes from finding inspiration from those moments in between all of that madness."
Karsh's most ambitious album Cinema is a myriad of influences on an acoustic guitar or piano - often while Karsh was either on the road, or in a studio. But as the title "Cinema" suggests, the process of scoring films has had as much impact on this album's sound as Kale's usual palette of progressive electro-rock and fusion influences. "Cinema" is the aggregate of these diverse inspirations, experiences and musical expressions within one cohesive vision.
Kale has composed for crossover and Bollywood films including Chutney Popcorn, Indian Cowboy, Ocean of Pearls, and Pyaar Impossible!. His tracks have also been featured in shows such as HBO's True Blood and Real Time with Bill Maher.Two of his songs were included in as sample music in Windows Vista by Microsoft.
Kale's song writing credits include songs with Sting and Norah Jones and has remixed songs by artists including Paula Cole, Yoko Ono, and The Cure. Kale also worked with MidivalPunditz on a re-scoring of Bruce Lee's Enter the Dragon.
In 2012 Kale was one of an esteemed group of music producers selected to take part in MTV India's music incubation project: Coke Studio for its second season. Working with Indian artists including Monali Thakur, Benny Dayal, Apeksha Dandekar and more, he produced some of the series most innovative and well received tracks including Glorious, Shedding Skin and a new twist on the 'UmraoJaan' classic - DilCheez.
You will enjoy Karsh Kale performing with Canadian dance and music artists in a full concert on Friday 15 of August at the celebration Square. Come ready for a full treat in music.
Max ZT lauded as the "Jimi Hendrix of Hammered Dulcimer" by NPR, and a "Force of nature" by NY Music Daily, Max ZT is an innovator of the instrument. Taking his roots from classical Irish folk music, Max has transplanted his compositional techniques to both Senegal, where he studied the Mandinko technique with the Cissoko griot family, and to Mumbai, India, where he received a grant to study under the great santoor master Pandit Shivkumar Sharma. His fresh perspective and bold experimentalism have been the backbone to beautiful, complex, and genuine compositions, while his unorthodox playing style has been a pioneering force in revolutionizing dulcimer techniques.
Jonita Gandhi,is a young and promising Canadian talent trained at the Ontario Conservatory of Music in Western Classical singing and now making inroads into Bollywood playback singing. Jonita has balanced her exciting musical career while completing her BHSc and HBA at the Richard Ivey School of Business at the University of Western Ontario.Jonita started performing with local musicians and her Youtube videos caught attention of music producers in Bollywood industry leading to her debut in the title track of Chennai ExpressRecently appearing at MTV India's Music Show "Coke Studio" with Clinton Cerejo she went on to work with A.R Rahman on several new Bollywood tracks.
Her journey through Bollywood playback has just begun as she performed along Sonu Nigam, Salim-Sulaiman and you will enjoy her performance with Karsh Kale on Friday 15th of August.
Dale Harrison has also studied at The University of Ottawa & Graduated from the Humber College music program in Toronto. These influences have helped him craft a style that has enabled him to tour world wide with many great artists such as Juno award nominees Headstones, Alannah Myles, Phil X, Derek St Holmes, Toney Springer & Derek Miller.
Dale is a versatile artist who enjoys experimenting with new percussion sounds and instruments and is pleased to join us with Karsh Kale on Friday night to give you an electric experience in percussion..
Bageshree Vaze has studied dance and music with some of India's foremost masters, including the renowned vocalist Veena Sahasrabuddhe. In 2004 Bageshree was named an MTV India rising star and in 2010 she was awarded the K.M. Hunter Award in Dance. In 2014, Bageshree was commissioned by the CanAsian Dance festival to create and perform a contemporary Kathak piece under the mentorship of Christopher House, Artistic Director of Toronto Dance Theatre. Bageshree is currently choreographing an exciting new group dance piece which will premiere April 2015 as part of a DanceWorks in Toronto.