Media Links
Top 5 Summer Festivals in Mississauga - insauga.com (2016)
Mississauga South Asian festival celebrates 10 year anniversary (2016)
Media Release
TD Mosaic Festival presented by Turkish Airlines celebrates its 11th year as a musical extravaganza with international focus on Music and Dance.
Festival running 12-13 of August,2016 brings A list Bollywood and MTV India artists to the Celebration Square in Mississauga.
Mississauga's longest running most successful multidisciplinary arts festival TD Mosaic 2016 Presented by Turkish Airlines, brings yet again an impressive line up of artists including Karsh Kale featuring Benny Dayal and Apeksha Dandekar, JasminSandlas and SW Strom. Mosaic Fest is the premiere arts and culture festival of Mississauga presenting the best in local and international South Asian and Fusion dance, music, and art.
TD Mosaic Festival 2016 Presented by Turkish Airlines will feature a fine selection of visual arts projects, dance performances, and three full-length concerts with international, national, and local singing sensations and talents.
The festival kicks off with the opening of a retrospective exhibition featuring senior Mississauga artist Youngo Verma at the Art Gallery of Mississauga. Guest curated by Ali Adil Khan and Mandy Salter. This exhibition consists of the late artist's drawings, paintings, and sculptural works. The exhibition runs from July 14th to September 12th, 2016.
TD Mosaic Mushaira, an annual highlight of the festival is held at Maja Prentice Theatre at the Burnhamthorpe Library on Saturday July 30th, 2016 at 5 pm. The poetry recital event showcases local and international poets reciting in Urdu, English, Hindi, and Punjabi. TD Mosaic Mushaira is organized in collaboration with a number of local and international literary organizations.
Rock the Coliseum, an independent music festival, brings together the best of local talent in an event that, over the years, has seen performances by several local bands and artists that have become national and international success. A free, all-ages festival, RTC is organized by the youth for the youth and is proudly presented by Exclaim Magazine. The festival takes place on the 12th and 13th of August, 2016 at the North Celebration Square Amphitheatre area from 5-11 pm both days.
No Mississauga summer would be complete without Mosaic Festival, the longest running free festival at this location in the city. TD Mosaic Festival 2016, Presented by Turkish Airlines, is bigger and better than ever! Turkish Airlines and Tourism Turkey have partnered to bring the best cuisine, culture, and tourism to festival attendees, to compliment the usual lineup of delicious local and international foods and unique shopping experiences. The grounds will also host an exciting onsite painting competition, workshops, and demonstrations. Festival includes celebrity MCs including citizen of the year; Jake Dheer from Rogers TV and lovely Aman Dhillon from ATN. A yearly highlight of the festival is the wide variety of highly acclaimed dance performances, including modern, Bollywood, and classical. As always, audiences can expect the highest quality of international artists straight from the Bollywood to the Celebration Square stage alongside independent superstars of South Asian music. This year the world famous music composer and performer Karsh Kale brings a complete Coke Studio MTV experience with a full 2 hour long concert with Bollywood's top singing sensation, Benny Dayal (DELHI 6, BAND BAJA BARAT, COCKTAIL, YEH JAWANI HAI DIWANI). Considered one of A.R Rahman's favorite singers, Dayal has maintained a steady stream of super hit songs in Hindi, Tamil and Malayalam. He is accompanied by Apeksha Dandekar, a young emerging star who made her name in legendary Coke Studio MTV. This act will feature some of the most talented Indian musicians from Coke Studio India along with Canadian Max ZT on Santoor. This night we will also have Canadian launch of the new album by "House of Water" and a thrilling Qawalli segment by a unique group out of GTA. Friday night headliner acts include a thrilling Chutni-Socca performance by S.W Storm. Performing for the first time in a major festival all the way from California, Jasmin Sandals ("Kick" fame) will rock the crowds with her power packed Punjabi fusion. Over 120 artists will perform this year.
Bollywood dance sensations, Shiamak Dawar Dance Toronto are back once again as the longest running act of Mosaic Festival and the annual grand finale. With over 40 dancers, the team - choreographed by the master himself - will take over the stage to perform their newest spectacle with the latest Bollywood numbers and moves. Get your dancing shoes on!
The Free Outdoor Festival takes place on Aug 12th and 13th, 2016 atthe Celebration Square Mississauga. For more information, please visit www.mosaicfest.com
Canadian Community Arts Initiative, a registered non-profit group organizes Mosaic Festival. CCAI is governed by a volunteer board of directors and develops its projects under the guidance of the Artistic Director. In the last 12 years, the organization has established 3 major multidisciplinary arts events and is currently planning a fourth major project in the form of a Peel Art Forum a Biennial Arts Festival. These events include the Mosaic Outdoor Festival, Rock the Coliseum - an independent music festival - and Mosaic International South Asian Film Festival or MISAFF among others.
Download Banners
Download Mosaic'16 JPEG tile 180 x 150.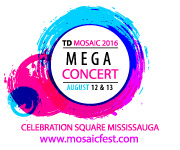 Download Mosaic'16 JPEG tile 256 x 90.






Download Mosaic'16 JPEG tile 300 x 250.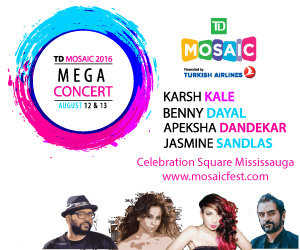 Download Mosaic'16 JPEG tile 684 x 250.






Download Mosaic'16 JPEG tile 728 x 90.