Sponsors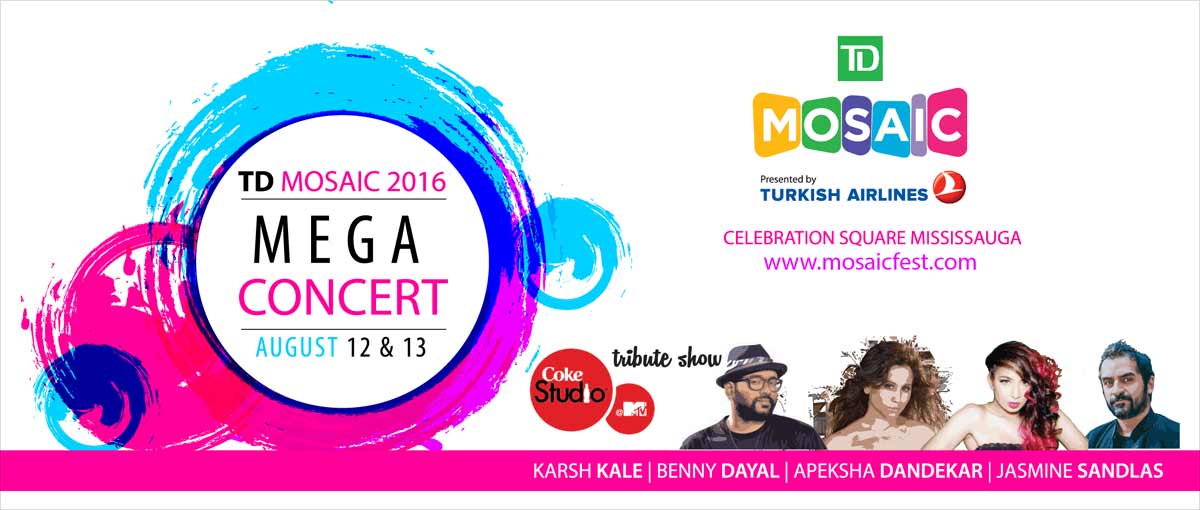 We are pleased to bring to you the 11th annual TD Mosaic Festival.
Over the past ten years Mosaic has established itself as the largest free South Asian festival of North America attracting close to seventy thousand (70,000) visitors in 2015.
The Mayor and the City of Mississauga have recognized Mosaic as a key player and an element of positive change in the cultural fabric of sixth largest Canadian city.
Mosaic is supported by the City of Mississauga and has received funding from Department of Canadian Heritage, Ontario Trillium Foundation, Province of Ontario, Ontario Arts Council and Toronto Tourism.
You will find Mosaic 2016 to be a high impact professional quality festival providing access to large numbers of South Asians and other visitors in a fun outdoor environment. Mosaic provides opportunities to socially responsible corporations and businesses to participate in the social and community life of Canadians by becoming a festival sponsor.
Your support for Mosaic is recognized at all levels and demonstrates your interest in the communities you do business with. The benefits and privileges of available sponsorship categories are detailed in the attached schedule.
Looking forward to a long lasting and mutually beneficial partnership and to help your clients reach their target audience.
In past Mosaic festival has received various levels of sponsorships by Telus, RBC, Rogers, Omni, No Frills, CIBC, Etihad Airlines, Pakistan International Airlines, Desiwear, Radisson Plaza Hotel and Convention Centre, Chevrolet and many more. As the festival continues to grow we thank all our past sponsors for their support in our early years. A big thanks to Ontario Arts Council, Trillium Foundation, Department of Canadian Heritage and Province of Ontario for their continued Support.
TD Bank is the Title Sponsor for Mosaic 2016 and presenting partner is Turkish Airlines.
Sponsorship Opportunities
Mosaic offers different levels of Sponsorship opportunities to cater for the needs small, medium and large corporations, and those are Title, Platinum, Gold, Silver and Community Partner levels. TD Bank has taken the Mosaic 2016 Title Sponsorship and the naming rights. Other Title sponsors in the past have included TELUS, RBC and No Frills.
You may also contact Mosaic Festival by email (info@communityart.ca) or call 416-388-9596 Arshad Mahmood for sponsorship inquiries
Please click here to submit our Sponsorship Inquiry Form for additional information on sponsorship opportunities.