Be(Coming) The Museum

Download Map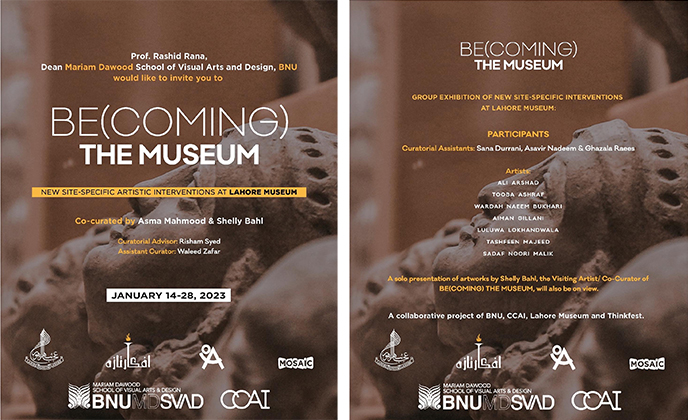 New site-specific artistic interventions at Lahore Museum
January 14-28, 2023
Canadian Community Arts Initiative and Beaconhouse National University (BNU-MDSVAD in collaboration with Lahore Museum, and ThinkFest Lahore present the exhibition, BE(COMING) THE MUSEUM.
BE(COMING) THE MUSEUM is a research-based arts project focused on building the engagement between creative practitioners and the museums of Pakistan. This collective project is a catalyst to inspire artists to develop contemporary connections to history through the Lahore Museum's collection of art and artifacts from prehistory to the present.
The BE(COMING) THE MUSEUM project was inspired by Private Thoughts/ Public Moments, a project at the Art Gallery of Ontario in 2000.
https://ago.ca/exhibitions/private-thoughts/public-moments
During the first phase of BE(COMING) THE MUSEUM, 18 selected Pakistani artists and curators participated in a two-day seminar and workshop at BNU and Lahore Museum where they were prompted to explore the question, "what is the museum of the future?" by developing research-based creative responses to the colonial history and collection of the Lahore Museum.
7 new site-specific artwork interventions selected from proposals by the artists who participated in the seminar will be on display in a ground-breaking group exhibition at the Lahore Museum.
The exhibition also includes a solo presentation of artworks by Visiting Artist, Shelly Bahl, curated by Asma Mahmood.
The exhibition will be held at Lahore Museum from January 14-28, 2023.
Be(Coming) The Museum - Curatorial Team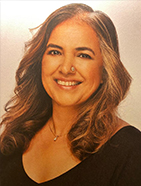 Asma Mahmood
Project Director/ Co-Curator (Toronto)
Asma Mahmood is a Pakistani-born visual and media artist and a seasoned arts curator. She has an MFA in Studio Arts from York University and has local and international exhibitions profile . She currently serves as the Artistic Director of Canadian Community Arts Initiative, producing and presenting various multi disciplinary arts festivals in Toronto.
Mahmood helps to refresh and transform communities into vibrant catalysts for innovative arts and cultural programming. She advocates for a stronger multicultural Canadian presence in the global arts landscape.
Asma Mahmood has received recognition for her work through awards such as the Queen Elizabeth Diamond Jubilee Medal, Excellence in Community Service/Awards, SAVAC Artist of the Year and other regional citations. She has served as an editorial board member for the Toronto Star, founding board member of SAVAC, Mississauga Arts Council, Chair for Art City Toronto, and as an advisor for municipal arts policy.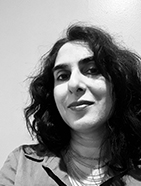 Shelly Bahl
Visiting Artist/ Co-Curator (Toronto & NYC)
Shelly Bahl is an interdisciplinary artist, curator, educator and decolonizing art trailblazer. She has been leading and participating in BIPOC and feminist artist-run culture in Toronto and NYC for over 25 years. She is a founding artist member of SAVAC (South Asian Visual Arts Centre) and ZEN-MIX 2000: Pan-Asian Visual Arts Network in Toronto. She was the inaugural director of SAVAC from 1997-1999.
Bahl was born in Benares, India, and is currently based in New York City. Bahl received her BFA (Visual Art and Art History) from York University, Toronto and her MA (Studio Art) from New York University. Her interdisciplinary work in drawing, painting, sculpture/ installation, performance, photography and video has appeared in many solo and group exhibitions in North America and internationally.
Her art practice explores the strange and surreal aspects of cultural hybridity and old and new forms of colonization. She is interested in the global transmission of iconographies and other forms of visual culture. She also investigates the surrealistic experiences of women who lead enigmatic trans-cultural lives. These narratives are based in facts and fictions rooted in specific cultural histories, which she then re-contextualizes and re-imagines.
The BE(COMING) THE MUSEUM project also includes a solo presentation of artworks by Visiting Artist, Shelly Bahl, curated by Asma Mahmood.

Curatorial essay by Asma Mahmood.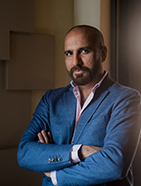 Rashid Rana
Project Advisor
Widely considered to be one of the leading artists of his generation in South Asia today, Rashid Rana is notable for his ideas, imagery and pictorial strategies. He has worked in dramatically different modes, such as paintings, stainless steel sculptures, video installation, photo-sculptures and photo mosaics. His works are in various public and private collections. He is the recipient of the prestigious Game-Changer Asia Art Award and was awarded International Artist of the Year by SAVAC in Canada (2003). He has exhibited extensively at various international galleries and museums. He is a founding faculty member and currently the Dean of the School of Visual Arts and Design at BNU, Lahore.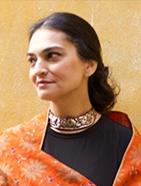 Risham Syed
Curatorial Advisor
Risham Syed is an artist and educator based in Lahore. She is a graduate of the National College of Arts, Lahore, and the Royal College of Art, London. She uses painting, as well as other mediums, to explore questions of history, sociology, and politics. Her use of fabric, embroidery, found objects, along with her painting speaks about her connection with the personal, as well as historical, weaving in history with the present moment. Her work has been included in major national and international exhibitions and collections. She currently teaches at the School of Visual Arts and Design at the Beaconhouse National University, Lahore and is heading the Visual Arts Department.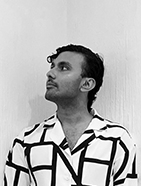 Waleed Zafar
Assistant Curator
Waleed Zafar is a visual artist currently based in Lahore, Pakistan. He completed his BFA in Visual Arts and MA in Art and Design from Beaconhouse National University, Lahore. He works on discourses of decolonisation, racial politics and art history.
Waleed Zafar's curatorial projects include The Body Displaced, a group show consisting of 11 artists working on recontextualising the body through their work (2022, and Navigating Matter, Act 2, a solo show by Maryam Rahman at The Last Word, a collateral event at Lahore Biennial 02 (2020). He is a permanent faculty member at Beaconhouse National University.
Participants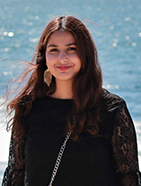 Asavir Nadeem
Curatorial Assistant
Asavir Nadeem is an interdisciplinary artist and researcher based in Lahore whose work has been exhibited nationally and internationally. She completed her BFA with Honours from the National College of Arts, Lahore. She is currently working as a curator, project manager, and researcher for various artistic projects. She is the co-curator of Taiz Larkiyan, a research-based artistic project that investigates the intersection of spaces, mobility, and identity while imagining indigenous and alternate systems of living (funded by Transforming Narratives, British Council, and Arts Council UK). She is also the co-curator, researcher, and project manager for Safar-e-Funoon, a research-centered, educational, digital archive that presents and analyses Pakistani art in an accessible manner.
Asavir Nadeem's work has been published in Artmaze and other local and international magazines. She is currently working as an art teacher at Lahore Grammar School.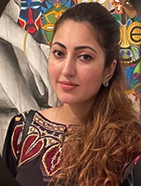 Sana Durrani
Curatorial Assistant
Sana Durrani is a visual artist & art conservationist based in Lahore, Pakistan. She has advanced training in painting conservation from Florence, Italy, and graduated from ICCROM CollAsia as a Cultural First Aider in their international course on rethinking disaster risk management for cultural heritage collections (Rome, 2021). She received her second Master's Degree (M.Phil.) in Art and Design with Honors from Beaconhouse National University, and also holds a Master's in Fine Arts (Painting) from Punjab University.
Sana Durrani has worked on several projects in the cultural sector including consulting for various museum and heritage sites, including the Walled City Authority, Lahore; August Schoefft Painting Restoration Project, Hungarian Embassy; and a capacity building workshop on first aid at cultural heritage sites in emergency situations, Alhamra Art Museum and ICCROM. She is currently a member of ICOM and is the Lahore Chair for NVCOM and ICOM platforms.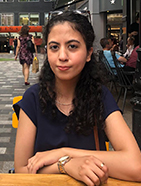 Ghazala Raees
Curatorial Assistant
Ghazala Raees is a researcher and emerging curator working as a Lecturer in the Department of Cultural Studies, National College of Arts, Lahore. She received her Bachelors in Visual Communication Design from NCA and went on to study Critical Media and Cultural Studies at the School for Oriental and African Studies (SOAS), UK.
Ghazala Raees was a co-curator for Supavenezia exhibited at AplusA Gallery, Venice (2022). Under The Citizens Archive of Pakistan, she conceptualized and executed Maazi ki Saa'aatain, a collateral exhibition to LB02 at the National History Museum (2020). She was awarded a scholarship by NCA to pursue a summer program in curatorial practice at the School for Curatorial Studies in Venice. Raees is a core team member of the UNSECO Chair in Conservation & Management of Historic Urban Centers at NCA and a founding member of the N.E.W.S Collective; a transnational collective of multidisciplinary curators working on producing unique cross-border exhibitions.
Group exhibition of new site-specific interventions at Lahore Museum
Artists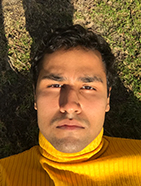 Ali Arshad is a trans-disciplinary artist based in Lahore. Arshad received his BFA from Beaconhouse National University. He uses text, research data, earthworks and new media in his practice to address the role of gender, spirituality and other socio-cultural disparities in contemporary art.
Arshad's work has been featured in various national and international exhibitions including, the wrong biennale (2022); Alter Work Studios, New York City (2021); Rise Collective Hanoi, Vietnam (2021); T6, Canada (2021); Bad Video Art Festival, Russia (2019); Humble Arts Foundation (2019); and A1 Bazaar (2018).
He was the winner of the final edition of We The Peoples, We The Arts in Pakistan (2019) and was also awarded a Global UGRAD Fellowship grant to study visual art at Grand Valley State University (2020). As part of his current practice, Arshad is leading an artist-led initiative, The Roadside, as an attempt to curate spaces and circumnavigate public access to art.
Curatorial text panel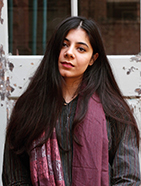 Tooba Ashraf is a visual artist and aspiring social scientist based in Lahore. She completed her M.Phil in Cultural Studies and her BFA in painting from the National College of Arts, Lahore. Her research-based works look at how memory, both personal and communal, influences the creation of identity. By experimenting with a wide range of media, she explores the ways in which gender, history, religion, and politics are all interconnected in forming these identities.
Ashraf was selected for the Taza Tareen 14 art residency hosted by Vasl Artist Association, Karachi (2022), and Tasweer Ghar's Annual Residency (2018). Her work has been published in the anthology Waba ke Dor Mein (In the Time of Pandemic), a publication by Vasl Artist Association (2021), as well as the bilingual anthology Between Quarantine and Quest, published by the Vasl Artist Association (2022).
Ashraf has been awarded the Vasl-KKAF Research Grant for 2022–2023. She secured the first prize 'We the People, We the Arts' (2016), and was awarded the Highest Commendation for Excellence in the competition's second iteration (2018). Her artwork is in the permanent collection of the Ambiance Boutique Art Hotels.
Curatorial text panel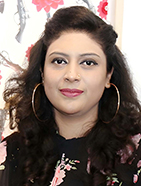 Wardah Naeem Bukhari is a Lahore-based multidisciplinary artist. She earned her PhD in Art & Design from PUCAD, Lahore. Her work recreates existing images through a new visual language using craft, aesthetics, history, mythology and new media arts.
She has had solo exhibitions in Pakistan at ArtSoch Gallery, NHQ Gallery, LCWU (2022); Taseer Art Gallery (2018); and Hamail Art Gallery (2014). Her international exhibitions include From Lausanne to Beijing 12th International Fiber Art Biennale (2022); 1st Material Art Biennale, Beijing (2022); 5th Asia Triennial, Manchester (2021); 7th Nakanojo Biennale, Japan (2019); 2nd Karnaphuli Folk Triennial, Bangladesh (2019); Lines in the Sand; Contemporary Art from Pakistan, Italy (2018); Making Sense of the Senses, New York (2016) and Mesk-VI Traditional Art Festival, Istanbul (2015).
In 2016, she completed Arthub residency in Arizona, and was also invited for an artist talk by South Asian Women's Creative Collective (SAWCC) in New York City.
Curatorial text panel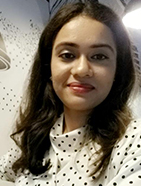 Aiman Gillani is a contemporary fiber artist and textile designer based in Lahore, Pakistan. She received her BFA and Masters of Art & Design Studies from Beaconhouse National University. Her work explores the intersections of text and textiles, as well as contextual patterns. She uses a variety of materials, most notably: textiles & fibers, projections, 3D models and holograms. She weaves narratives within and through a space, creating a spatial weave.
Gillani's work has been exhibited at group exhibitions at Annat Art Gallery, New Delhi (2021) and Vasl Artists Association at Focal Point Art Book Fair, Sharjah Art Foundation (2019).
She has received a nomination for Textualizing Weave to Study Pattern as Context for the Jameel Art Prize 6. In the textile sector, Gillani has contributed as a trainer for capacity-building workshops under a UNESCO project in association with the Pakistan Tourism Department, Pakistan Small Industries & Pakistan Arts Council. She has contributed to the documentation and promotion of cultural and creative industries at selected heritage sites in Punjab including Bahawalpur, Aimnabad, Uch Sharif & Farooqabad.
Curatorial text panel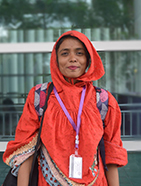 Luluwa Lokhandwala is a research-based artist and illustrator from Karachi, Pakistan. She received her Bachelor's in Communication and Design from Habib University in 2021. Her work engages with academic research and also creates space for traditional art and craftsmanship. Her work investigates the evolution and intersection of spirituality, ethnicity, feminism, and the city, through the processes of documentation, archiving and research.
Her artwork has been exhibited at the Mai Karachi Festival (2022); Pakistan Pavilion at Venice Biennale (2021); Indigo Waves and Other Stories, Lahore Design Festival (2021); and has been featured in Sheherezade: The Walled City Anthology (2019). She is currently a member of the Nani Ghar Artist Collective.
Curatorial text panel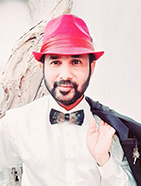 Tashfeen Majeed Joseph is a Pakistani interdisciplinary visual artist. He received a BFA in Painting from the Institute of Art and Design, Government College University. Continuing his family's legacy and his childhood association with Ghoughou Ghoray(clay toys), Tashfeen utilizes traditional material such as Multani mitti (Fullers Earth clay). His works explore the living history of the Indus Valley civilization's clay toys. He uses clay as a medium along with poetic text and spoken word. He creates a bridge between visual, poetic, literary and performance art.
He has had numerous solo and group exhibitions including Karbath Artist Residency (2021); SDC-UK International Design Competition for Students (2020); Modern Gallery Zagreb, Croatia (2020). He has participated in 13 national and international art competitions including two international painting competitions by UNICEF. He is a member of Artist Association of Punjab (AAP) and established the Abu Tashfeen Gallery at the Chamber of Commerce & Industry in Faisalabad from 2012-2017.
Curatorial text panel
Sadaf Noori Malik is an artist, architect and educator who graduated from the National College of Arts with a Bachelors in Architecture, as well as a Diploma in Classical Architecture from The Institute of Classical Architecture and Art – ICAA, NYC (2002). Sadaf's digital art practice explores Sacred Geometry, its history, as well as its contemporary role in art and architecture. She takes inspiration from the patterns and sequences present in the universe and her work offers a visual window into this algorithm, matrix, and illusion; that unites and creates multiple realities, encompassing the minuscule as well as the vast cosmos.
Malik has worked on several artistic and architectural projects both locally and internationally. Her work has been exhibited at the Pakistan Art Forum (2020-2022). She was awarded a scholarship to represent Pakistan at the Edinburgh Art Festival (2006). Her prominent works include the Redesign of The Battery Park, NYC for the ICAA (2002), and a site-specific art installation for the Fringe Festival in Edinburgh, Scotland (2001).
Curatorial text panel