Visual Arts at Mosaic Festival V.I.R.S.A
Charles Pachter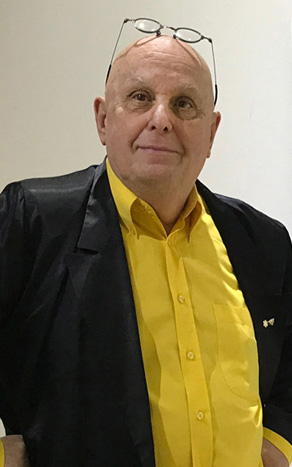 One of Canada's leading contemporary artists, Charles Pachter is a painter, printmaker, sculptor, designer, historian, and lecturer.
Born in Toronto, he studied art history at the University of Toronto, French literature at the Sorbonne, and painting and graphics at the Cranbrook Academy of Art in Michigan.
His work has been exhibited at the Art Gallery of Ontario, the Royal Ontario Museum, and the McMichael Gallery. He is represented in public and private collections throughout Canada, and internationally. He has held solo exhibitions in France, Germany, Japan, the UK, and India.
He taught printmaking at the University of Calgary in 1969-70. He spearheaded Toronto's Queen Street West revival in the 1970s and 80s by restoring 20 old buildings into facilities for arts usage.
He is an Officer of the Order of Canada, a Chevalier of France's Order of Arts and Letters, a member of the Order of Ontario, and holds honorary doctorates from Brock University, OCAD University, and the University of Toronto where he is a Senior Fellow at Massey College. He is a recipient of the Queen's Golden and Diamond Jubilee medals.
His images of the queen, moose, and maple leaf flag are icons of Canadian contemporary art. McClelland & Stewart publications include an illustrated book on his life and work, His murals of Hockey Knights in Canada can be seen in Toronto's College Subway Station.
Mr. Pachter lives and works in downtown Toronto in an award-winning studio designed by Canadian architect Stephen Teeple. His work is on permanent display in his adjoining Moose Factory Gallery.
His paintings are in the Portrait Gallery of Canada, the Canadian Embassy in Washington, Canada House in London, the Parliament Buildings, the Prime Minister's residence, and the Embassy of France in Ottawa. His solo exhibition on "The Loyalist Legacy and the Creation of Modern English Canada" was installed in the Charterhouse in London, Aug-Sept 2016.
Pachter's steel and granite moose sculptures have been installed across Canada.
His best selling children's books, M is for Moose, and Canada Counts, and The Illustrated Journals of Susanna Moodie, his celebrated collaboration with poet Margaret Atwood, are published by Cormorant Books, Toronto.
CCAI is pleased to present Charles Pachter in Talk at the Mississauga Central Library in conjunction with TD Mosaic Festival and Mississauga Central . This talk is based on his artistic journey and his experience in Bhangladesh where he exhibited his Retrospective show early this year at the Bangladesh National Museum. This exhibition was made possible by CCAI, in collaboration with Canadian High Commission Dhaka, Winners Creation Bangladesh, Canada Council and Durjoy Rehman.
The talk will take place on 12 July 2018 at the Mississauga central Library at 6;30 pm.
site web: www.cpachter.com
courriel: pachterc@gmail.com
adresse: 22 Grange Ave, Toronto ON Canada M5T1C7
Tel: 647 239 1700
AROOSA NAZ RANA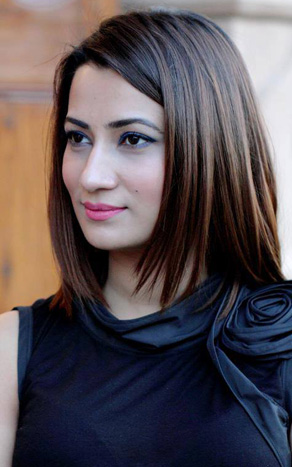 Aroosa Naz Rana is a visual artist and an Educator, works and lives in Lahore, Pakistan.
Over the one decade, Rana's practice included many diverse ideas and ways of production. Rana's art is a constant query about" who is a viewer and who is being viewed" and the position of a viewer in her art works. She acknowledges that before the advent of advanced technologies, fact and fiction resided in two distinguishable categories. In art, for example, it was possible to differentiate between a fiction and realism. In contemporary life and vis-à-vis in contemporary art, however, the difference between fact and fiction has been complicated by experiences that derive from simulations, virtual reality and digital manipulations and by such crossover products as designer knock-offs, tribute bands, and docudramas. Her works of art challenge viewers in the same way that they are challenged by contemporary technologies – to decipher fact from fiction.
Recent shows include; Colombo Biennale | 2016 – "Stills of Peace and everyday life" | Museum Capitolare di Arti | Italy | 2014 - "Exit" Dhaka Art Summit |2014 - "Crossing Over" Delhi | India| 2013 – "Suspended Disbelief" | Pakistan | 2013 – "Subverting Desire" | Pakistan | 2007
Aroosa Rana is a faculty member at the school of visual Arts and Design at the Beaconhouse National University in Lahore, Pakistan.
Rana is presenting her photographic montage at TD Mosaic 2017 during the outdoor festival on 3 and 4 August on the large outdoor screens. Her work is exclusively made for this festival and alludes to the diversity and immigrant communities of Canada and its global position.
Rana will be presenting an artist talk at the Art Galley of Mississauga on August 18.
Ishrat Suhrwardy
Ishrat Suhrwardy is a Mississauga based, Canadian clay artist and a potter who has become by the virtue of her excellent command over her artistic tradition, a master artisan. Ishrat Suhrwardy was a resident artist at the Living Arts Centre and now works there as an instructor. She is the recipient of the 2010-11 Marty award for 'Visual Artist of the Year'. She has been teaching clay art in Pakistan and Canada for a long time while her own work has been exhibited internationally. Ceramics inspires her because of its unlimited possibilities for expression and her passion for this art has made her a sought after instructor and exhibitor.
Ishrat finds the utility of her creations as a satisfying experience and experiments with many different techniques to enhance her artistic expression. Ishrat will demonstrate pottery making skills in her demos and encourage youth and children to try their hand at the potters wheel during the festival on Saturday 4th of August 2018 at the Celebration Square.
Luc Bihan
is a Toronto based clay and ceramic artist who runs a school teaching children and adults the intricacies of sculpture and Clay works. Luc has presented art classes at many events like the CNE. His ability to develop love for the medium in his student is infectious and allows him to become a centre of attraction for both young and old.
Luc Bihan will present clay workshops during the outdoor festival on Saturday 4th August 2018 during the outdoor festival at the Celebration Square.