Rock the Coliseum
Rock the Coliseum 2013 - Assorted Frequencies of the Big Sound
Founded in 2006, Rock the Coliseum has been an annual, all-ages, FREE music festival in Mississauga that celebrates and supports all genres of independent Canadian music. RTC is a project of the Canadian Community Arts Initiative - a not-for-profit organization based in Ontario, Canada. RTC is presented as a component of the TD Mosaic South Asian Arts & Culture Festival, a wildly successful yearly event that drew 75,000 people to Mississauga's Celebration Square from August 16th - 19th in 2012. Our crowd is energetic, informed and as diverse as it's host city. We are a celebration of everything that is good about the local music community.
This year, Rock the Coliseum will take place on Friday, August 16th and Saturday, August 17th in the large amphitheatre attached to Mississauga's city hall. We're simple to reach by public transit, and parking in the area is free!
Check in often for info on our line-up, artists, music, videos, pre-parties, our after-party and chances to win prizes from our sponsors.
RTC 2013 Lineup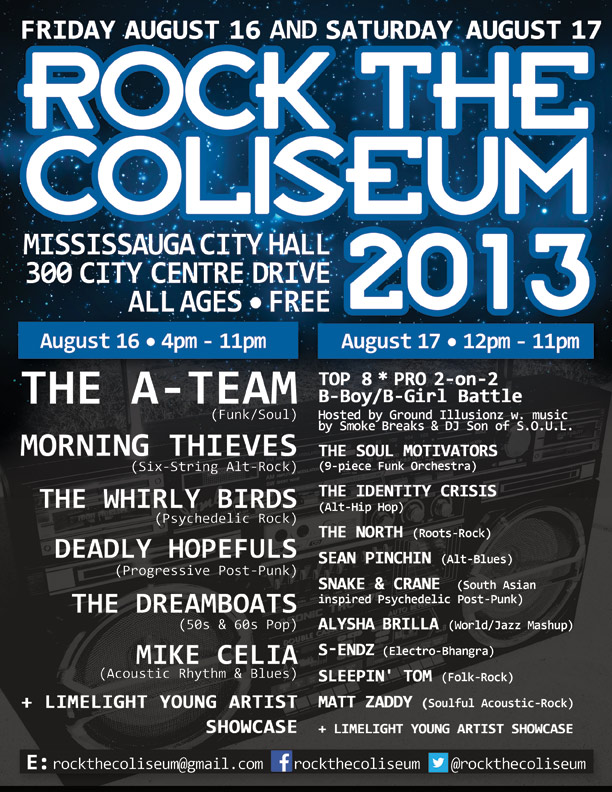 A PROJECT OF

TITLE SPONSOR

GOLD SPONSOR

SILVER SPONSOR

WITH SUPPORT OF











FESTIVAL PUBLICIST

STAGE MANAGEMENT